General Information:
From what series?: Cardcaptor Sakura
Is the character original?: Yes
Name: Crystal
Age: Unknown
Gender: Female
Birthday: Unknown 
Appearance:
Crystal is a magical beast created by magic. She has two forms. Her first form looks like a cat plush toy with wings. She has a white body, turquoise eyes and turquoise fairy like wings.
Her first form: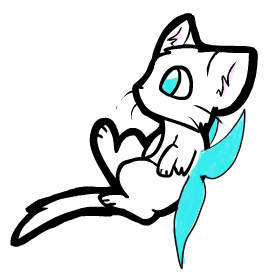 Colored by Mai, 
made by this guy
Crystal's true form is a full grown white leopard. She has 
turquoise
 eyes and 
turquoise fairy like 
wings. On her chest is a 
turquoise
 snowflake diamond shape pendant. 
Crystal's true form: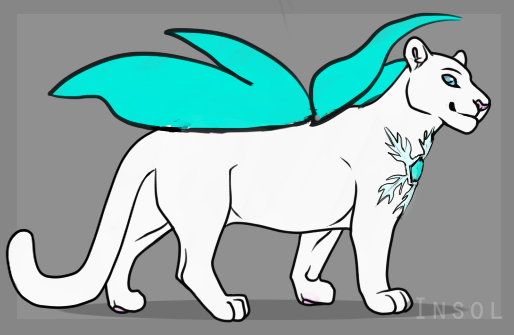 Colored by Mai, 
Drawn by this guy.
Personality:
Crystal is a dimwit. She's very clueless to her surroundings and can be very scatter brain. She tends to lose her focus when she's overly excited. She is clumsy and once she starts talking, she won't shut up. Crystal is kind and always put others before her needs. She loves to have fun and always looks on the bright side of things. Crystal hates conflict. She always tries to avoid fights and anger.
History:
Crystal was created by Clare Reed, the eldest sister of Clow Reed. She was born from magic and her purpose was to show off Clare's skills as a sorceress. Crystal accepted her role as Clare's guardian willfully. She vowed to protect and to serve her. She viewed Clare like a mother and highly respected her. She worked hard to please her master by practicing with her powers everyday. She hoped that all her practicing would help Clare get her spot on the magical's world high council (it's the magical world's form of government). When the day came for Clare to present Crystal to the council, she was determined to impress them. Crystal's hard work paid off. The council was impressed with Clare's ability to create guardian like beasts. They told her they would consider her a spot on the council. Crystal was thrilled for her master.
Then one day Clare's dreams of being on the council were crushed. Her brother Clow, showed off his magical cards to the magic world. The council were really impressed and wanted him for the job. He declined, but that didn't stop for the council from trying. Clare was forgotten and she vowed her vengeance against her brother. Crystal was heartbroken that all her work meant nothing. She grew to hate Clow for making her master miserable. She eagerly volunteer to help Clare get her vengeance on her brother.  The two tried many times, but failed each time. After Clow's death, Clare was able to take the lime light again and finally got her spot on the council. Crystal was happy for her and the two of lived life comfortably. Until Clow's magical cards were released. Clare watched a girl name Sakura Kinomoto capture them and became the new master over them. She felt threaten by the girl's ability to control her brother's cards. So she decided that the only way to get vengeance on her brother was to get rid of the girl and to destroy the cards. Crystal immediately agree to help Clare's plan.
Magical Creature Information
Powers: Flight and snow like powers. She can bend natural snow or make it snow on her own. She can also shoot a blast of ice from her mouth. Shapeshifting.
Weapons or Items: N/A